Bugs

Hi and good orning @all
here i have a Bug from Systemexplorer .For a long time i wrote
this here and never get a response on this.So i write thi again
and hope this time it will be better.
So here the Problem:
I have two Accounts on my Win 7 32 Bit Machine an when i
have finished a Session on one of the Accounts and i switch
back to the other,everytime i have switch back on a Account
System explorer Crashes with this Error Message.
Fatal Error - System Explorer Service Halted.!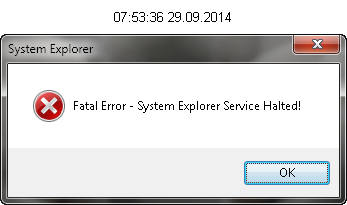 After this Error i can start System Explorer again without
problems.
Please Fix this Problem.
Best Regards
Lucien Phoenix